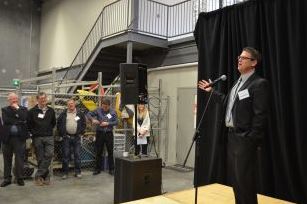 After 105 years and four generations, the family business continues to evolve
BURNSIDE – It's not every day that a family business owned and operated in the Maritimes celebrates more a century of service. Even more rare is when that same family is still at the helm.
The Sancton Group hosted dozens of business associates, suppliers, contractors and friends of the business and family for a 105th anniversary event on April 23. While celebrating the company's rich past, it was also a chance to look to the future, including the new Cutler Avenue location in Burnside.
Sancton Group President Matthew Sancton, recalled sitting on his father Clark's lap as he drove a forklift – something you couldn't get away with nowadays.
"I'm proud to be the fourth generation president of this company," said Sancton. "I always knew from a young age this was what I wanted to do."
Sancton Group has two divisions: equipment and access. The access division, which includes scaffolding and swing staging, opened in Halifax in 1997 and has been involved in restoration jobs around the city, including the Lord Nelson, Dominion Building and Province House.
Today, the company is focused on the sale of equipment and parts to the aggregate and paving industry as well as being a major contractor in the scaffold industry in Atlantic Canada.
There have been a few changes over the years, but the business has adapted.
"Westray changed safety for everything in Nova Scotia," said Sancton, referring to the Pictou County mining disaster in 1992. "The technology has changed as well. You don't see scaffolding on new construction nowadays. You see the hydraulic platforms."
The business started in Saint John, N.B. around 1915 under S. Norman Sancton when he began selling anchor chains and manila lobster trap rope from merchants in England. His son Clifford joined the business in the 1930s and eventually, it was incorporated as a limited company in 1953.
The business opened an office and branch in Dartmouth in 1983 under the guidance of Clark and George, the third generations to run the business. Remaining in and serving Atlantic Canada has always been a priority.
"We're confident in the industry, in the Maritimes and Atlantic Canada," said Matthew. "I wouldn't want to live anywhere else."
Sancton Access is currently engaged in a major project in Pictou County as Northern Pulp installs a new electrostatic precipitator.
Matthew's brother, Andrew, handles New Brunswick sales of Sancton Equipment. It is Clark's hope that the company remains in family hands.
"It's important to us, but you can't predict that," he said. "There are a lot of older businesses that get bought out, sold or become part of others. The secret to any business is to keep moving to new products and new opportunities."