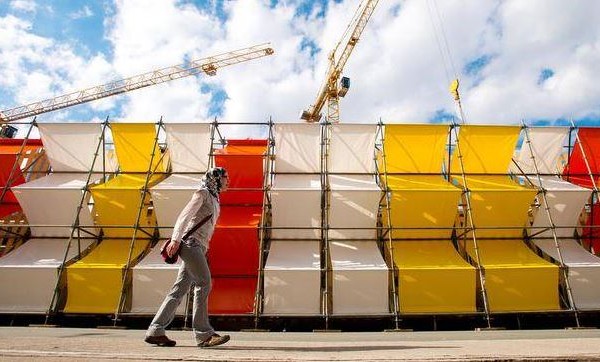 An enthusiastic crowd of downtown Halifax boosters turned out Thursday to show construction-weary Argyle Street some love.
The occasion was the official unveiling of an imposing street art installation designed to create a buffer between the $500-million Nova Centre construction site and a string of about a half-dozen restaurants and bars on Argyle affected by the project.
"This is a massive construction project and it has created some disruption for these businesses along this block of Argyle," Paul MacKinnon, executive director of the Downtown Halifax Business Commission, said in an interview as a crowd gathered for a group photo shoot.
The Argyle Street Animation Project was designed to create a colourful separation between the busy construction site and businesses and pedestrians on the street.
The commission is investigating the possibility of keeping the art installation in place along Argyle while construction continues, and is also exploring the potential for employing the design at other downtown construction sites.
The street art installation is on the west side of Argyle between Prince and Sackville streets. It consists of two structures, about five metres high and 30 metres long, with banner material woven through scaffolding.
"Its purpose is to create a physical change on the street and to inspire a new way of treating vacant land and construction sites in the urban core of the capital city," the commission said in a news release.
The images are to be shared through social media and in an advertising campaign to promote the downtown.